RATE YOUR COMPATIBILITY

Remember when you pulled the petals off a flower saying those age old words, "he/she loves me he/she loves me not?" It never worked!
Do you often wonder if you and a friend or lover are really compatible? You can explore the aspects of your relationship, why it works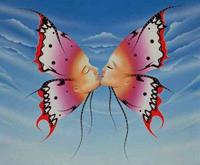 and how conflicts might arise, based on your sun sign. Try the fun free generator below and read about your compatibility with one another.

There are two types of methods in astrology for determining compatibility. Both work for love or friendship. You can also use these methods for business partnerships or family members. The composite chart is created using two birth charts and combining them to create a single chart. The composite chart method looks at the relationship itself. It will not tell you how your partner reacts or feels about certain relationship matters. It won't tell you what attraction factors were involved in bringing you together or what can make or break your bond. If you want to know what attracted you to each other, or how your partner or friend reacts to you or particular relationship issues, you would want to look at a compatibility report that compares planets in signs and houses between two separate charts.

Simpaticos is a relationship report that allows you to look at your relationship as a whole, it becomes a single entity. It will describe the strengths and weakness in your relationship and how other people view your relationship even though they know nothing about you on a personal level.

Friends and Lovers Compatibility report will take you on a journey through each persons desires in a relationship, what attracts them and what makes them tick. You may be drawn to certain people in your life that fit perfectly into what you imagined for yourself, yet your relationship is born of challenges. This is where having two methods of charting compatibility is useful. Both methods are enlightening, the choice is yours.



Explore your relationship by purchasing Simpáticos or Friends and Lovers. Both are in depth relationship reports from Horoscopes Within. You'll be glad you did!