2012 table below
If you have read the Eclipse page, then you already know that the most powerful new and full moons to affect your horoscope in any given year come in the form of solar and lunar eclipses. Even so, we can not ignore the other New and Full moons that occur each month. They are extremely helpful in clearing away issues that seem to create a maze affect in our lives. Have you noticed that there are issues in your life that seem to follow a pattern and no matter how hard you try, these issues are hard to overcome? That's where the New and Full Moon can help you understand the changing patterns in your life.

Each month we have a New Moon followed about 14 days later by a Full Moon. When a New Moon occurs,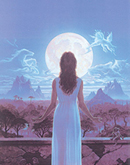 it's the time to begin new projects, initiate contracts, make important phones calls, write up a proposal and do anything that requires a starting point. When the moon reaches its fullness two weeks later, this is the time your efforts will bear fruit and come to completion.

In your horoscope, a New Moon in any area of your life urges you to focus on issues that require your input. If you are born within 5 days on either side of the DATE(in your sign) of the new moon you can expect to be more strongly affected, whereas if you are born further out, you may only see a small development in that area.

As an example, if you have a new moon in your horoscope that affects your 4th house of home and property and it happens to occur within 5 days of your birth date, you should expect a new development in your home. Perhaps you get the approval for mortgage financing and start looking for a new house. That would be a very exciting development! Those that are born further out may find themselves making a needed repair in the home that they have been putting off. The New Moon will get you started and support your efforts in whatever it is you are doing.

Recently my sister told me that she didn't know what had gotten into her; she just decided it was time to scrape the old calk off of her bathtubs and re-calk. She also cleaned the shower doors better than she ever had before, and had the bathrooms in her house looking like brand new. At the same time she started taking some new whole food supplements and had her family watching their diets and eating healthier foods. She was unaware that she was working with the energy of a New Moon in her 6th house of health and daily routines affecting her personal horoscope.

The effects of a New Moon are shown in outward changes whereas the effects of a Full Moon are more emotional and directed inward.

At the time of a Full Moon, you should expect a culmination of events to occur within 4 to 5 days of its occurrence. Full moons close chapters and often bring a sense of finality to your life. You can't have a fresh start without closure in other areas; otherwise we get bombarded with issues that never end and our lives collect so much clutter that it becomes chaotic. As with a new moon, those born within 5 days on either side of the DATE of the Full Moon will experience a more marked influence.

Going back to my 4th house of home and property example, perhaps it's a full moon that occurs in your 4th house. The closing date on your new home is scheduled around the time of the full moon! If you're not buying a home, perhaps a roommate is moving out and you'll miss their company, therefore you're a bit saddened to see them go. If there are planets in your 5th house of children during this time, your child might be moving out and going off to college. Again, there are several ways a full moon could work out and these are only a few examples.

The energy of any Full Moon may cause you to react emotionally. Any of the above examples may leave you anxious or even upset in some way. The moon governs the ebb and flow of the tides and as human beings are 90% water, it's natural that the moon would govern our emotions and influence our personalities. Feelings tend to become more overwhelming during a full moon, no matter which sign or house is affected in your birth chart.

The Full Moon in opposition to the Sun often results in challenges. These challenges can strengthen our resolve and with effort can be overcome. Nevertheless, it can cause stress. The energy of the Full Moon frequently affects its opposite house or house polarity. For example, if you have a full moon in your 4th house of home and property, the energy could also affect the opposite house which is the 10th house of career and status. This is extremely important to note. It is recommended that you let a few days go by after a full moon before you make any life changing decisions. Often we don't have all of the information we need to react appropriately. Stay with horoscopeswithin.com for current information on this years new and full moons. The current new and full moons are detailed in every horoscope forecast each month at Horoscopes Within.
2011 New and Full Moons

Universal Time (UT)
| | | |
| --- | --- | --- |
| Moon Phase | Date | Position |
| Full Moon | Jan. 9, 2012 | 18° Cancer/Capricorn |
| New Moon | Jan. 23, 2012 | 3° Aquarius |
| Full Moon | Feb. 7, 2012 | 19° Leo/Aquarius |
| New Moon | Feb. 21, 2012 | 3° Pisces |
| Full Moon | Mar. 8, 2012 | 18° Virgo/Pisces |
| New Moon | Mar. 22, 2012 | 2° Aries |
| Full Moon | April 6, 2012 | 17° Libra/Aries |
| New Moon | April 21, 2012 | 2° Taurus |
| Full Moon | May 6, 2012 | 16° Scorpio/Taurus |
| Solar Eclipse | May 20, 2012 | 0° Gemini |
| Lunar Eclipse | June 4, 2012 | 14° Sagittarius/Gemini |
| New Moon | June 19, 2012 | 29° Gemini |
| Full Moon | July 3, 2012 | 12° Capricorn/Cancer |
| New Moon | July 19, 2012 | 27° Cancer |
| Full Moon | Aug. 7, 2012 | 10° Aquarius/Leo |
| New Moon | Aug. 17, 2012 | 25° Leo |
| Full Moon | Aug. 31, 2012 | 9° Pisces/Virgo |
| New Moon | Sept. 16, 2012 | 24° Virgo |
| Full Moon | Sept. 30, 2012 | 7° Aries/Libra |
| New Moon | Oct. 15, 2012 | 24° ALibra |
| Full Moon | Oct. 29, 2012 | 7° Taurus/Scopio |
| Solar Eclipse | Nov. 13, 2012 | 22° Scorpio |
| Lunar Eclipse | Nov. 28, 2012 | 7° Gemini/Sagittarius |
| New Moon | Dec. 13, 2012 | 23° Sagittarius |
| Full Moon | Dec. 28, 2012 | 7° Cancer/Capricorn |