Unveiling Your Inner Sky
If you have ever looked at your birth chart, then you already know that you have planets in some of the houses and you may also have some empty houses. If you would like to create your natal chart, you are welcome to use the free birth chart generator here at www.horoscopeswithin.com.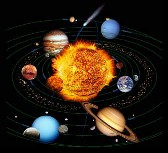 Go to the Free Birth Chart page; there you can learn to construct your birth chart, or you can use the interactive birth chart generator. You can right click on the chart as well as the aspects list and print or email the chart to yourself.

Each house in your birth chart covers several different areas of your life. You can read more about what each house rules in your life on the Houses page. Each planet in your birth chart represents a specific type of energy or influence on that area of your life. You can learn more about the planets and the type of energy they project on the Planets page. Once you have a picture of your birth chart and you know which area in your life that each house governs and which planets are located there, you can use this page as an analysis of each planet and it's influence on that specific area of your life. This will give you a better understanding of yourself, why you excel in certain areas of your life, why you tend to be challenged more in certain areas, and why you react the way you do to specific issues in your life. As you learn more about the planets through the houses of your natal chart, your chart will begin to unfold and your life and patterns in your life will take on a new meaning.


Sun in Houses of the Birth Chart
Moon in Houses of the Birth Chart
Mercury in Houses of the Birth Chart
Venus in Houses of the Birth Chart
Mars in Houses of the Birth Chart
Jupiter in Houses of the Birth Chart
Saturn in Houses of the Birth Chart
Uranus in Houses of the Birth Chart
Neptune in Houses of the Birth Chart
Pluto in Houses of the Birth Chart
North Node in Houses of the Birth Chart
Part of Fortune in Houses of the Birth Chart
Permission granted for use by Ramara House Software
Creators of ASTRO22 Astrology Software
Copyright Astro22 all rights reserved